The modern solution for self-storage facilities
All the
management features

you need to run your facilities.

OpenUnit is a complete management platform, fundamentally changing the way self-storage teams collaborate and facilities run their business.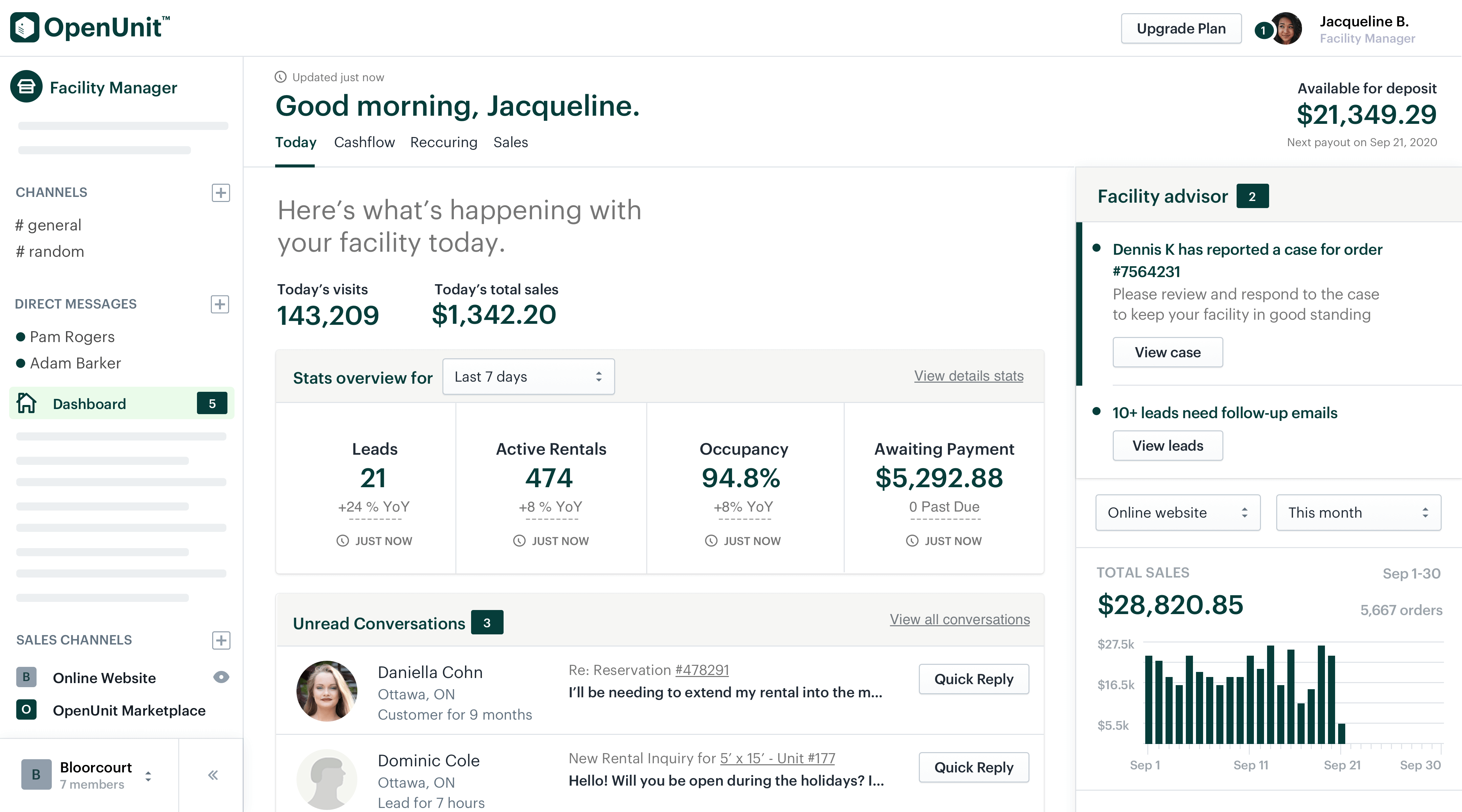 ---
Here's everything you get with an OpenUnit account.
---
Management Hub
Understand customer data and act on it—all in one dashboard
Our audience dashboard shows you pre-built segments like top locations, recent sources of growth, common tags, and even customer lifetime value (CLV).
Customer Relationship Management (CRM)

Leads & Reservations

Convert more leads into reservations and understand all of your lead sources such as websites, listing services, call centers, and always know who you're talking to—even as your audience evolves.

Automated Email Follow-up

We make it easy to set up automations to keep the conversation going with customers. After someone inquires about your facility, send a follow‑up to keep your brand top of mind or offer a promotion.

Real-Time Customer Activity Timeline

The activity feed displays a visual timeline of your customers's engagement across all of your marketing channels. If you received an inquiry from a renter through your website, or they came through a marketing channel, the activey feed acts as the source of truth for each customer.

Segments & Tags

Create your own segments and tags to filter customer data to suit your business needs. Our segmentation tools make it easy to target and send messages to customers that matter to them, without overwhelming them with ones that don't.

Audience Insights

Get to know your renters—from a bird's eye view or at an individual level. Our insights will help you discover patterns in customer behavior and see what's working with your marketing channels.

Rich Customer Profiles

Customer profiles give you an in‑depth view of each person in your audience—simple, powerful, and accessible from any device. Profile enrichment and reporting capabilities increase KPIs like average customer value, net promoter score, and advertising ROI through personalization.
Unit Management

Bulk Unit Management

Our import tool helps you import units to OpenUnit. Upload a comma-separated value file (CSV), copy and paste units from a spreadsheet like Microsoft Excel or Google Sheets, or type info directly into the import table. You can also auto-update multiple existing units at once.

Multi-Facility Inventory Management

Use OpenUnit to run and manage multiple facilities from a single corporate dashboard, supporting unit inventory from multiple locations for omni-channel sales.

Unit Transfers

OpenUnit provides the ability movement of a tenant from one unit to another. You can choose how to want the customer's balance to be settled at the time of transfer.

Rule-Based Adjustments & Promotions

OpenUnit promotions functionality allows you to offer coupons and discount to your site's users, based on rules and conditions you choose.
Business Intelligence

Customer Surveys

Solicit private, 100% customizable feedback with dynamic surveys that you can send to tenants. Imagine customer feedback that's not only tied to a customer name, but also to their lifetime value (LTV), their unit number, the employee that rented to them.

Insights & Reporting

OpenUnit provides thoughtful insights about your business through OpenUnit Analytics. OpenUnit software is constantly learning and pulling data about your facilities. OpenUnit Analytics aggregates these numbers and provides detailed reporting about your business.

Price Optimization

Smart Price optimization lets you set your prices to automatically go up or down based on changes in demand for listings like yours. You're always responsible for your price and changes are controlled by other pricing settings you choose, and you can adjust unit prices any time.

Real-Time POS Data

Through OpenUnit, we aggregate all of your transaction and performance data in one place, to help identify issues and serve customers faster.

Revenue Management

Complete 360 degree visibility into how your business is performing with valuable operational analysis & customer insights to help you forecast for the future.
Rental & Lease Agreements

Custom Rental Agreement Templates

Highlight the sections that change for each tenant and use the smart text drop-down to create fields that you can quickly update for each new tenant. When you're ready to send an offer to a prospective tenant, we'll gather the necessary details to auto-fill these fields within the agreement.

Certified Digital Signatures

Use electronic signatures (eSignatures) to certify legally binding documents for your tenants. A digital signature is an electronic, encrypted, stamp of authentication on digital information that is tamper-proof.

Paperless Document Management

Go paperless knowing your documents are secure— both inside and outside your organization. Enable people to quickly access, organize, and find their content.
Location Management

If your business has multiple facilities, you can manage all of them right from a single online OpenUnit account. Create individual facility profiles for each location with specific business hours and individual prices. You can also manage employees by location.
Payments
Accept every way your customers want to pay.
Increase your revenue with payment options built to reach a global audience, optimize checkout conversion, and increase in-store purchases with Point-of-Sale (POS) software.
Payment Acceptance

Accept Credit Cards

Accept Visa, Mastercard, American Express and rewards cards – all at the same rate of 2.9% + 30¢.

Accept Debit Cards

Accept Interac debit for 2.65% + 10¢ per transaction.

Apple Pay and Google Pay

OpenUnit terminal lets you accept any type of contactless and chip payment, including all major cards, Apple Pay and Google Pay.

Automated Billing

Collect payments automatically and reduce churn with smart retries, automated failed payment emails, and an automatic card updater. Automated Billing is tied to the customer's billing cycle and rental date.

Automated Taxes

OpenUnit features a robust taxation engine with Tax Categories, Zones and Rates based on the location of your facility.

28 & 30-Day Billing Cycles

Configure billing cycles used to determine the amount of time between one invoice and the next for your renters. Billing cycles can range anywhere from 28 to 30 days.

Prorated Rentals

When a customer transfers units during a billing cycle, a proration line item is automatically calculated. The prorated amount is calculated down to the second by OpenUnit.

No Contracts or Long-Term Commitments

There are no startup fees, monthly fees or termination fees. You only pay for card processing when you make a sale. It's as simple as that.

Process Refunds

Process custom or itemized refunds for payments directly from your POS system or your online OpenUnit Dashboard.

Payouts & Transfers

Enable automatic or custom transfer schedules to access your funds in one to two business days.

Transparent Pricing

It's one fee for credit cards and a flat fee for debit cards. No complicated bills, no different rates from month to month. What you see is what you pay.
Payment Protection

Account Protection Tools

Set up 2-Step Verification to add a layer of security. Control who has access through employee permissions. Get feedback from OpenUnit if your password isn't strong enough.

Encrypted Payments

All information entered by our customers has been encrypted and submitted to our servers securely. OpenUnit Payments and card readers meets Level 1 PCI Data Security Standards.

Fraud Protection & Monitoring

Our systems monitor your payments for suspicious transactions. Machine learning and human expertise work together to constantly adapt our technology to the shifting fraud landscape.

PCI Compliance

OpenUnit Payments complies with the Payment Card Industry Data Security Standard (PCI DSS) so you don't need to individually validate your state of compliance.

Manage Disputes & Chargebacks

We're experts in disputes. Let us deal with the bank so you don't have to spend hours on the phone. Active disputes are tracked via your Disputes Dashboard.
Customizable Website
Rent everywhere your customers are and take control of your online presence.
Custom design your online store and checkout experience to match your brand and streamline rental data into a single source of truth through our APIs.
Default Online Website

OpenUnit comes with a fully functional webite that fits well with most use cases and provides a nice, mobile friendly experience. It may be tweaked to fit your brands design and colors.

Headlesss CMS

Combine a headless CMS you fancy, with a complex publishing workflow and a custom OpenUnit website blending content and commerce on both desktop and mobile.

Online Checkout Links

Send your customers a checkout link through an email or offer a discount to entice them with a custom checkout link containing a promotion.

Responsive Web Design

OpenUnit websites use fully responsive, mobile-first layouts. OpenUnit may be easily customized with an on-brand, custom storefront.

Data Warehouse

Make your marketing data-driven and keep optimizing your business. Set up a data warehouse to gather user-focused data, store it, mine it, visualize it, understand the patterns and act on it to improve your customer experience.

Tenant Hub

OpenUnit provides all the tools for customers to self-manage their information, attach payment methods and streamline communications and requests with the facility manager.
Blog & Content Management

Blog CMS

OpenUnit comes with a simple content management, which may be fitted with any popular WYSIWYG editor, to edit homepage elements, blogs, custom pages, facility listings or T&Cs.
Site search and guided shopping

Fast Search

OpenUnit combined with Elasticsearch, a powerful search engine, provides amazing user experiences at "ludicrously awesome speeds" even with hundreds of facilities.

Suggested Facility Locations

Convert visitors easily by suggesting facilities with locations matching a radius near your uses zip code or postal code.

Quick Facility Listings

Automatically keep your location details up-to-date from the OpenUnit Dashboard. It's easy to change business hours, update facility images and set online-only rental rates.
Online Rentals

Document Capture & Identity Check

OpenUnit ID verification is a critical step in the rental process and it is also a useful tool that helps your facility to combat fraud, identity theft, safety issues, and more.

Paperless Tenant Onboarding

Through our paperless application process, your applicants will be able to submit all the requirements for your facility needs to rent.

Tenant-Managed Profiles

Tenants can manage their own profiles and easily attach payment methods, make monthly payments, schedule a move-out or send a Message to your staff.
Pixel Tracking

Google Analytics

Use our built-in integration to connect your site to Google Analytics for visitor tracking and other reporting.

Google Tag Manager

Manage all your website tags without editing code. Google Tag Manager is a tag management system (TMS) that allows you to quickly and easily update measurement codes and related code fragments.

Facebook Pixel

The Facebook pixel is code that you place on your website. It collects data that helps you track conversions from Facebook ads, optimize ads, build targeted audiences for future ads, and remarket to people who have already taken some kind of action on your website.
SEO Support

Basic SEO

OpenUnit makes sure to yield relevant, meaningful URLs, infuse product pages with keywords, use clean and mobile-friendly code, which search engine appreciate.

Advanced SEO

OpenUnit supports Schema.org microformats, up to date sitemaps, let's you optimize for speed with full page or fragment caching, host static assets on S3, use a CDN, use lazy loading.

Unique Content

There's no SEO silver bullet, but what sure matters is unique content blended with rich landing pages and user generated content, such as client reviews. OpenUnit suggests content that you can create so that you improve your ranking and can attract new customers.
Marketing
Automate your marketing, and convert Leads to Reservations.
Reach your renters in new ways online, and keep your brand top of mind with follow-up automations, Welcome messages, and promotions.
Automation

Customer Re-Engagement

Stay in touch with automated emails that entice your renters to come back and see what's new. Reaching out to people who have rented at your facility in the past will get you more engagement than sending a bulk email to your entire list.

Customer Retargeting Emails

Remind people to who did not finish booking on your site and invite them back to complete their rental. Once you set it up, retargeting emails are always working in the background to help you make more rentals.

Welcome Automation

Send a quick welcome message or create an email series that tells a renters about your facility and brings your brand to life. Personally welcome all your new renters, without the personal effort.
Customer Engagement

Email Marketing

Capture emails to drive user retention, stimulate loyalty, ask for referrals, hand out rewards, segment your user base, up sell and cross sell.

Helpdesk Integration

Integrate OpenUnit with any customer support or CRM solution. Connect support tickets to units, reservations, facilities, payments, refunds, reimbursements, customer accounts.

Live Chat Integration

Introduce some human touch allowing users to contact your customer staff, chat with them, log all conversations, create self-service knowledge base, track chat metrics.

Messaging

A Message is sent between two members on OpenUnit. As a facility, Messages are the main way you can communicate with your renters on OpenUnit.

Saved Replies

Saved replies are pre-written messages. You can use them to respond when a renter sends a question or comment that you receive frequently. This way you can ensure your frontline staff are always delivering your brands message.

Two-Way Communication

If you need to contact a renter about a reservation, you can send a Message to them. For each Message, the renter will recieve a notification & can easily reply the Tenant Hub or directly from their email.
Accounting & Bookkeeping
You shouldn't have to be an accountant to understand "financial reporting".
From sales and purchases to cashflow, taxes and reporting. OpenUnit Books will support every step in your facility's process.
Financial Controls and Auditing

Chart of Accounts

When you created your business in OpenUnit, we set up your Chart of Accounts with a predefined list of account codes used for all financial transactions. You cannot add additional account codes to the list, but you can edit the codes to match any accounting system's account description and unique account code.

Reconciliation

Account Reconciliation ensures that the transactions entered in your OpenUnit account match what happened in the real world. When your accounts are reconciled, you can be confident that your bookkeeping is up to date, and your reports are accurate.

Transactions

The Transactions page is where all of your transactions live. You can create, filter, sort, and edit your transactions here.

Sales Tax

When you create a sales tax, OpenUnit automatically creates a sales tax liability account on your chart of accounts, named after the sales tax. Every time you create a transaction that includes sales tax, the amount of tax is recorded to the sales tax liability account.
Financial Reporting

Accrual vs. Cash-Basis Reporting

OpenUnit offers both Accrual- and Cash-Basis reporting. All reporting in OpenUnit defaults to Accrual-basis accounting but you can toggle to Cash-basis anytime you need from within your reports!

Balance Sheet

Snapshot of what your business owns or is due to receive from others (assets), what it owes to others (liabilities), and what you've invested or retained in your company (equity).

Cash Flow Statements

Cash coming in and going out of your business. Includes items not included in Profit & Loss such as repayment of loan principal and owner drawings (paying yourself).

Profit & Loss Statements

Summary of your revenue and expenses that determine the profit you made.
Accounting Software Integrations

Accounting Software Integrations

Sync OpenUnit transactions with your accounting software to save time, reduce the potential for mistakes, and access real-time data with popular accounting software such as QuickBooks, Great Plains and Xero.
Team Management
Easily manage your people and run your teams more efficiently.
Built into your OpenUnit dashboard, you can assign permissions to control what team members can see and do in your OpenUnit account.
Create & Assign To-do Lists

Create assignments such as to-do lists or rental comp lists for all the work you need to do, assign the work to a specific team member, and set due dates. OpenUnit will follow up on overdue tasks on your behalf.

Facilitate Conversation & Collaboration

Facilitate secure, employee-to-employee, communication and collaboration with Team Chat.

Share Content To Improve Knowledge

Improve employee knowledge & confidence. Reinforce sales scripts, promotions, or company training. Share materials that your frontline staff & facility managers can have on hand & easily reference throughout their day.

Send Critical Updates & Drive Action

Send targeted updates to employees that drive action & improve employee performance. Attach images, calls to action, or quizzes to boost engagement & promote your brands message.
Goal setting

Align Your Organization

Set company goals in OpenUnit & keep them top of mind, allowing employees to always know what that should be executing on and move in one direction.

Inspire Individual Action

With OpenUnit, team members can see how their work contributes to company goals. They understand the value of their strengths and skills and, in turn, are more invested in doing their best work.

Set & Achieve Strategic Goals

Set your weekly, monthly, or quartly company goals and the track their progress in one place. You can see contextual activity to see how goals are moving forward & teams can work wisely to get the right things done.
Team Communications

Direct Messages (DMs)

Need to have a private conversation with a coworker? Direct messages (DMs) let you chat in real time with anyone on the same OpenUnit account. You can have private 1-1 or create small group conversations.

Real-Time Group Chat

OpenUnit's real-time group chatrooms (Channels) let you ask quick questions and get equally quick responses from co-workers or head office. All without reaching for a separate app.

Share Files, Images, & Contextual References

Every team chat includes the ability to share documents, files, and images. Within conversations on OpenUnit, you can make references to customer profiles and reservations and they are automatically converted to shortened links.

Discussions & Feedback

Post documents & files and discuss them in OpenUnit with your frontline. Encourage employees to submit feedback and ideas, share best practices, and engage with their co-workers.
Role & Permissions

Staff Activity Tracking

View a list of the latest commits, merges, comments, and team members on your project.

Admin Accounts

You can organize employees and contractors into departments for easy management and reporting.

Permissions

Users have different abilities depending on the access level they have in a particular group or project.
Document & File Management

Documents & File Storage

Every project includes a space to share documents, files, and images. Since everyone on the project has access, people will know exactly where to find everything.

Folders

Set up folders in your OpenUnit team space to keep content organized, so everyone can quickly find what they need. You can create a folder for Facility Emergency Information or a folder for New Employee Onboarding documents. This way, everyone on your team is looking at the same thing.
POS Hardware
Extend payments to your in-store point-of-sale.
Add in-person payment processing to your facility, and enable online and offline payments without additional work.
Pre-Certified Card Readers

OpenUnit Terminal offers a selection of pre-certified readers that accept payment details (EMV, contactless, and swiped), encrypt sensitive card information so you don't need to worry about anything.

Centralized Fleet Management

If your facilities use many readers across multiple physical locations you can group readers, view their connectivity status, and customize their settings by physical location from the OpenUnit Dashboard.

No Contracts

There are no startup fees, monthly fees or termination fees. You only pay for card processing when you take a payment.

No Hidden fees

We don't charge different rates for different credit cards. No monthly fees, authorization fees, statement fees, refund or chargeback fees, PCI compliance fees, reward card fees, international credit cards, etc.
Compliance & Security
OpenUnit is built with multiple layers of advanced security to protect your customer data.
PCI Compliance

OpenUnit has developed our own security guidelines as well as industry standard security practices in handling customer and credit card data. OpenUnit Payments relies on payment gateways for PCI compliance.

Accessibility

Make your website compliant with ADA & WCAG regulations by setting the right order of focus throughout the site, correct HTML syntax, sufficient contrast ratios and proper handling of pop-ups.

GDPR Compliance

GDPR regulations are not about any specific tech solutions and OpenUnit is secure as much as it can be out-of-the-box. In OpenUnit, users can manage their own information.
OpenUnit is free, and always will be free for self-storage facilities.
OpenUnit takes care of many things for you that banks and other vendors do not. When you use OpenUnit Payments, the Management Software and Point-of-Sale software is free to use – there are no setup fees or monthly fees.
What's included with each account
Full CRM management software

Blog management & marketing website

Team chat & employee communications

Accounting & bookkeeping software

Integrated readers & POS software out-of-the-box
Pricing
OpenUnit software is free to use – whether you're big or small.
Only pay when you take a payment.
Monthly fee
$0 Per Month
No hidden fees. No long-term contracts.
Processing rate
2.9% + 30¢
Every credit card transaction payment you take for online rentals or automated billing. 1
Integrated per-transaction pricing we don't charge different rates for different credit cards. The price is the same for all cards.
1 Our standard rates are designed for businesses that process less than $1,000,000 per year. Pricing packages for larger businesses depend on payment volume, average transaction size and more. We'd love to have a conversation about it.
Accept in-person payments via OpenUnit Point-of-Sale.
Point-of-Sale transactions are built right in for 2.65% per tap, dip or swipe for Interac, Visa, Mastercard, American Express and international credit cards.
2.65% + 10¢
For POS transactions you take in-person at your facility. 1
OpenUnit Terminal
A complete point-of-sale and payments kit designed for any facility countertop setup.
Hardware starting at
CAD $499
The modern solution for self-storage facilities
Let's talk OpenUnit
Learn how OpenUnit can help you effortlessly onboard and manage your self-storage facilities, whether you have 1 location or 1,000.
Our team will be in touch within 24 hours. By entering your email, you agree to receive marketing emails from OpenUnit.